"On a fluke i found your link and activated the free trial. Wow, immediately impacted by it! It's amazing technology. I've been able to do yoga and meditation again. My household is harmonious with past karmas burning off- as you say. It lifts you up, to it's level and removes obstacles. Heck, I want to work for this company. This is a whole new way of living. When I leave the property, I can feel the loss of the vibration and yet, even still, folk were very chatty with me along the way today. I was grounded in a way, I'd been wishing to be. I am reading at your Learning Centre, as we speak. I'm sure I'll have many questions, but for now, enjoying the gigantic shift in consciousness I'm feeling!"
"Wanted to share what I have noticed about FLFE with my home school adventure. This is the 4th school year I have home schooled my 12 year old son. Before FLFE we had a lot of miscommunications. Frustration I guess is a better word. Last year, I didn't think he would get through Algebra. This year is completely different. He seems to get it, there is no frustration, no bumping heads and in the first two weeks of school he is getting straight A's in every subject. Coincidence, I think not. FLFE has created an environment for my son to thrive. I am so grateful."
"I loved the energy that was coming thru my place. My trees outdoors were turning greener and the leaves more open than the others that were farther away.  That visual showed me this energy was real. My indoor plants are also responding and looking very healthy. So it is definitely working in nature and obviously working indoors.  I was also eating healthier and feeling more peace. I will sign up and continue receiving the FLFE program."
"Wow! My physical and energetic body is going through some big shifts I think. My low back has been acting up these past several days I believe it to be associated with large and small intestine stuff and "letting go of the cr*p in my body and belief system" yes? ! I am not falling into fear around it which is a nice change from 'my old patterning'. Too, my psyche is stirring up and cleaning up as well. I know All is Good even though these shifts are discomforting and a wee bit disconcerting at times. Thank you for your concern!
"I wanted to do the mobile because I am an outdoor fitness instructor and I wanted to bring it to my clients during our sessions.  It has been great, and I can definitely see a noticeable difference in my clients now too.  They just seem to have a great time in our workouts. Since starting with FLFE Mobile I have been receiving more ideas and inspirations to help build my personal fitness business. Also, I work pretty hard in my day but through FLFE I don't hit that mental crash at the end of my day anymore.  The energy to stay focused on talking to clients, writing emails, or getting my tedious tasks done is there even after a long day of work.  My last experience has been in my new relationship.  We just have a blast together.  Never have I been in a relationship where we complement each other so much. FLFE Mobile has been a blessing for me."
"Shortly after starting the program, I noticed a dramatic upturn in the business. I didn't immediately link the two events together, but over time I have come to realize there is much more going on than just luck. There has not only been an upturn in business but also a more focused group of people getting more and more done each day. I have sat back and watched how others operate. I have noticed others pick up on the positive energy that permeates the space. I haven't explained the process to everyone, but everyone seems to be connected to it. Something like this is the kind of thing you wish someone could bottle and sell to the world, but allowing it to enter your space is virtually the same thing. I feel very privileged to be a part of the experience and certainly a part of the process."
"I triple my income using FLFE energies on the business locations I choose when I come work in USA.  It's amazing but both times I used the energies in just two days my income went skyrocketing.   Of course I also have a focus or intention and the energy just magnifies and triples my returns financially."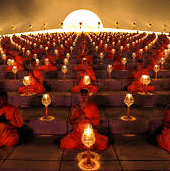 "…I just knew I had walked into a cocoon of love energy stronger than I ever felt before. It was like walking into a bubble that washed and filled me with the fullest feeling of love energy…To have a tsunami of love waves washing me clean and all my clients fit exactly my soul purpose of being here… I signed up my home and office"
"I was in this space last week and it feels worlds better.  I brought a friend who said, "I want to be here all the time!" and the space is completely empty. He's clearly feeling the effects of FLFE! Personally, I felt like the space had a dark cloud in it and now that's totally gone and it feels much more clear and light filled.  Really amazing."
"In the past I was bad at "small details" and I would put them off until later but they would never get done. Lately I've been very detail oriented and pro-active about things. I can spend 10 hours at the computer and not feel the need to distract myself with web surfing or checking email too much….Almost immediately I had referrals coming in from all over the place and I even have projects on a waiting list. "
"…people's reactions when they enter the space are really pretty amazing. Almost everyone comments about how good it feels to be there. First time visitors walk around looking at the space almost in a daze of awe. Word has spread around our community about our studio and our business is really increasing…"
"The house was on the market for 18 months, with no offers. A few days after we applied FLFE to a listing for sale or rent, I went over there and there was a palpable difference… There was a strong feeling of settled, centered energy in the house itself – very calm yet very alive… The house was also for rent, and within a few days we had three offers to rent. Before we got a lease signed, we also received an offer to purchase, and the owners decided to sell."
"For awhile I had forgotten about Fluffy until about about a month ago.  I remembered it and thought to myself, 'Well it was a fun experiment but I don't think I'll renew next year.'  Then I got to thinking.  I have lived here for 14 years and tho I love my own house and property, I haven't been too wild about most of my neighbors.  Some were the kind that let their big dogs run all over my yard, instead of their own two acres, and dig HUGE holes (5 wheelbarrow loads of dirt in one hole).  Others were just too whatever to be neighborly.  Well folks – most of them moved out within three months after starting FLFE on my place.  Now, for the first time in 14 years, I have several new neighbors besides the ones moving into the former dog's house and we have had dinners and wonderful connections, and yet we aren't uncomfortably demanding on each other.  It's PERFECT.  I do believe FLFE is working!!"
"Initially I felt some major energetic clearing affects from FLFE. I felt lighter and began to come to conclusions about visions/dreams/goals I've had for years, in a sense I figured out a lot in a short period of time. This did not bring sudden changes in my physical reality however I could sense that things were turning for the better.
My income is now consistently double what I used to make working 20% more hours and I definitely attribute this to the abundance of energy that FLFE is sending to clear and charge my life force with joyous experience. I have been able to make a massive positive influence in various peoples lives which is one of the most amazing aspects of raising our level of conciousness."
"I love that I know FLFE is there for me everyday-giving me a big warm squeeze of increased capacity. Thus enriching my life and further developing my abilities to carry out my work as an enlightened leader for positive change."
What I've noticed about my place is a Real Calm Soothing Energy and also 2 nights ago Pure Bliss and Gratitude to The All etc. So a huge Heartfelt Thank You for bringing this awesome technology to us at such an affordable price
"My experience is that of feeling like when I was a 5 year old, my mother giving me a cup of hot chocolate and allowing me to ride my bike outside with my fellow bikers."
"Our house SOLD in 2 Days without even being listed on the market, a sign in the yard, or any type of advertisements.  Not even a for rent sign.  We put the energies on the property and our neighbor came knocking at our door.  In two weeks contract was signed!"
"Love the service!! The 1st night the energy was turned on I was able to meditate with ease! My 14 year old was drinking water without me bugging her to do so. She has actually been nice to her dad and me these last 2 weeks! Even doing chores without complaining! Thank you!"
"…it feels like it clears the atmosphere from hindrances to connect to source or God's presence and allow you to self-heal emotional trauma…"
"I was on the free trial up until this past Saturday… I activated a mobile device on Monday yet I've been feeling extremely tired and I've had a headache and sinus pain for days. I decided to activate a home subscription and literally within a few minutes I feel relief! I feel more at peace inside and the tension subsiding. I felt a tingling on my arms in just a few minutes. I know there are different programs between the mobile and home but the sensations are very noticeable! The true test will be tomorrow when I take it to work.
(Update): Today is the first day since I activated my mobile device I had a chance to test it at work … Sales have been very bad for weeks … not just bad but there's been multiple issues with the few sales we've been getting that something goes wrong and they are either being canceled or returned! Today I did over $8500 and as I was leaving another coworker was in the midst of ringing a nice package!
I've been in a serious rut the last several years … last month I ran across an ad about FLFE and subscribed for a free trial … I didn't hear anything back … (apparently my email was rejecting you) for the first few weeks of June I felt as if my life was finally moving forward! A car that's been nothing but a problem for 5 years was replaced by a 2016 brand new car … the events that led to that are nothing short of miraculous! I had 2 job offers out of the blue and for the first time in several years I felt like I was on top of life and had things coming in perfect timing! It was exhilarating! All of a sudden it stopped! I felt I lost my connection again … things started going south . Then another ad for FLFE came to my attention again … I put in for a 15 day trial again and didn't hear a thing from you. Then I got persistent (and discovered your emails that my account had hidden from me) and found out during the weeks I thought it was just me doing all this great manifesting I found out my free trial with FLFE was turned on and I didn't know it! It was a bitter sweet moment! 🙂
This energy is what every "sensitive" needs during these times! It is truly amazing to me how quickly manifestation can occur which on the flip side we must always remind ourselves that we are in control! When things go south it can happen quickly as well! When you realize this FLFE does make it easier to flip that negativity around as observed by turning on my home subscription again! I'm going to have some fun with this! I am totally amazed! Thank you so much!"
"It's been about 5 days now and I can definitely feel a difference.  The first night I felt a bit sick and actually threw-up.  The first night i didn't sleep well at all and had a headache for the next two days.  I'm not sure if this was something I was fighting off regardless of the life force vibes, but I have a feeling that it was part of the detox cycle that happens.  My husband was on holiday and got back on Tuesday.  The same thing is happening to him.  Today he's feeling better, but needing more sleep.  We've both had a very tough year and haven't taken care of ourselves very well, so really I'm not surprised!
It was interesting that when I signed up for the free trial I read that I would get an email with more information and I remember thinking to myself that the computer screen looked different, like the colors were more vibrant and alive, then I got the email and was interested to hear that some people can start feeling it right away, because that's what happened to me.  It was about 30 seconds after I signed up.
I'm definitely feeling more motivated to clean, and it doesn't feel like such a big deal or chore lately.  We had my aunt and uncle over for supper last night and my aunt commented that the house looks really good…made me chuckle inside!
Right now is a really stressful time of year for my family.  There are a lot of new routines starting and it feels like I am better able to do what needs to be done and calmer, where in the past I would be driving everyone nuts bossing them around!
My dog had also had a sore on her eye for about a year.  It actually looks like it is healing over the last couple of days when it looked the worst ever a week ago!
Our children are also been falling asleep easier and earlier than they have in the past!
Thanks!"
" I am very greatful to be receiving the energies and can most certainly tell a difference in how my home feels, also in myself, how I feel.  I believe the long-term benefits will be even more amazing.  I don't ever want to turn off the flow.  Thank you."
"I have been in the FLFE field now for 51 days and have noticed some lovely effects in my body and environment. Within a few days I began feeling like I had done a detox along with a feeling of cleanness and higher frequency in the environment. After the 9th day, I began to experience a "heaven on earth" feeling in my body which I have experienced many times before due to a kundalini meditation process that has been happening for the last 17 years. But in the FLFE, this remained almost constant for about 3 weeks and has now subsided to a more "normal" feel good level. I noticed the effects of the FLFE right away in my meditations. Hard to put into words except to say a greater depth and quieter quiet. I'm looking very forward to seeing what happens over a long period of time in the field with the meditation and also general physical health. I view FLFE as another gift of Grace in my life and am very grateful for it and to all the people involved in getting it distributed."
"I noticed the shift in energy right away, and at first really relished in it and loved it. About 3 days in I had a really funky day of nausea and thinking that maybe it was just too much! All of that cleared up quickly though, and I'm feeling great again. My two teenage daughters ages 13 and 15 had some notable adjustments as well. My 15 year old, Rachel, is the one with severe depression. She actually became more agitated initially with the energy, and I wondered if it was helping her. What has been distinct is that, as the month progressed, her highs and lows because less severe, and also her desire to be home and/or have friends over here became greater. When she used to go down it was scary and I would become vigilant in keeping an eye on her. Now, when she dips, she is back up quicker. She's also decided to take up fencing in the past month,which is a huge development because she has been unwilling in the past two years to do anything extra curricular.
My other daughter, Riley, didn't have any noticeable negative effects as first and has only become more positive. She decided in the past month to take up girls volleyball which is huge as she also hasn't wanted to do sports on the past year. Our family life is very close, peaceful, and positive with minor ups and downs from Rachel.
I cannot express my gratitude at you giving me this gift. To see Rachel do better and take up a sport has been inspiring. It feels like she is out of the dark of suicidal thoughts and plotting and into a brighter more expansive place. My heartfelt gratitude to you!"